Dear Poet,
we are looking for You and Your texts [send them to: pi@lostsensemedia.org, in German], for the final show at #IRREPLATTE, on November 3rd and 4th 2017 – and I will switch to German now:
Suchst Du den wahren Impact, und magst mit Deiner Kunst Leute berühren? Ein bisschen ähnlich einem 'Poetry Slam', ermöglicht Dir unser Format genau das:
Poetry Injection
Petry Injection ist neu. Es baut auf den Erfahrungen auf, die ich in vielen Jahren psychologischer Arbeit gesammelt habe. Und es ist besonders schön: Es bringt Deine Kunst genau dort hin, wo sie am besten aufgenommen werden kann.
Du liest Deinen Text, und berührst Deine Zuhörer noch einmal ganz anders als z.B. auf einer Poetry-Slam Veranstaltung (die natürlich auch cool ist, keine Frage). Der Ablauf ist vorgegeben, Du sagst Deinen Namen und liest los, trägst vor, oder singst… – dabei bist Du wie für Dich, wie hinter Glas, und doch wie auf einer Bühne; doch viel persönlicher für Jeden, der Dir zuhört.
Für das Finale von #IRREPLATTE brauchen wir nun Deinen Text zum Thema:
[poetry injection 1:]   "Aus der Leere schöpfen"
Hast Du Texte über die Leere – als kreativer Raum, als Ursprung für Neues, als Herausforderung oder Challenge, als schöner Moment?…
Dann schick ihn gleich zu uns (Deine Urheberrechte bleiben Alle bei Dir), eine Jury wählt die Texte aus, die live vor Publikum und Presse in der 1. Poetry Injection in Brandenburg a.d. Havel performt werden!
Ab geht die Post!
Schick uns Deinen Text am besten gleich – unsere Jury nimmt ab jetzt Texte an, bis das Programm für die Performance steht.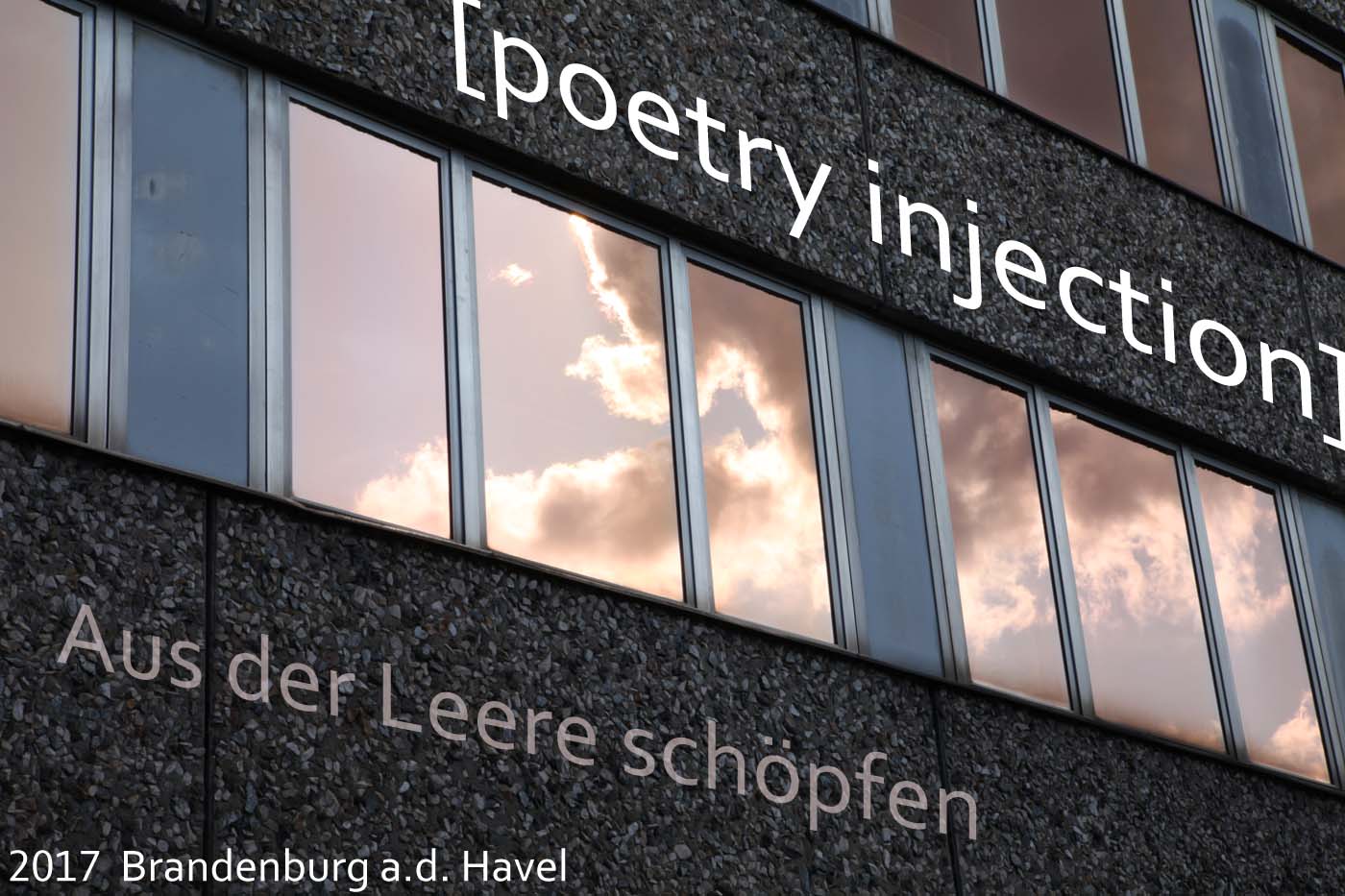 (poetry injection)